EXPLORE THE COLORFUL RIVERS OF SLOVENIA
Body rafting is a well known activity in many countries.
Now for the first time, we are doing it in slovenia and what a better venue than our wonderful Soca River. It consists of jumping and swimming and allows you to be carried away by the current.
This Activity is ideal if you want to spend quality time in the water and also to have the possibility to jump as many times as you like from different heights. 1 to 12 meters. Of course you can always say Yes or No. You will make your own adventure.
It is fun and exciting to fully experience nature.
Have Fun and play safe with a professional guide that will take you along the way.
While playing, you will learn about our rivers, basic hydrology and how to swim on whitewater.
If you have any questions, please do not hesitate to contact us. We are happy to help.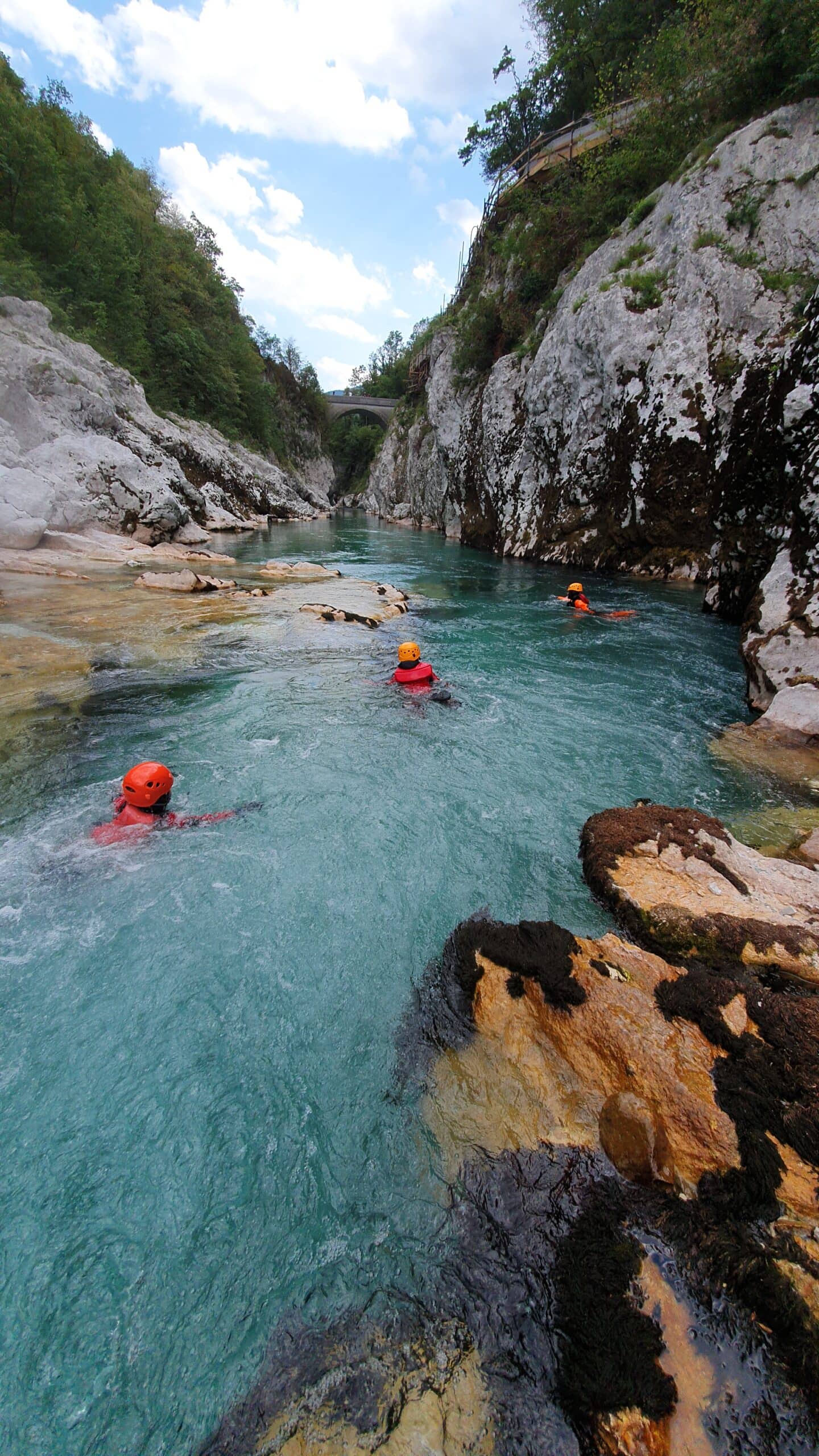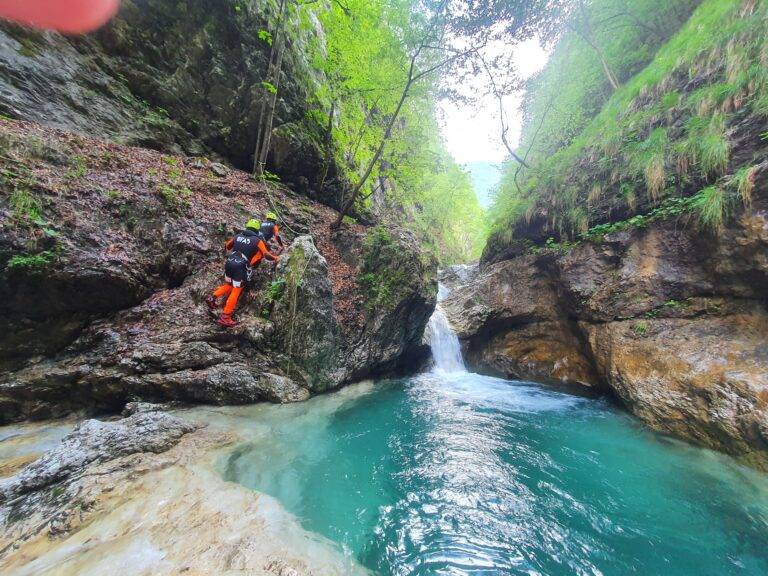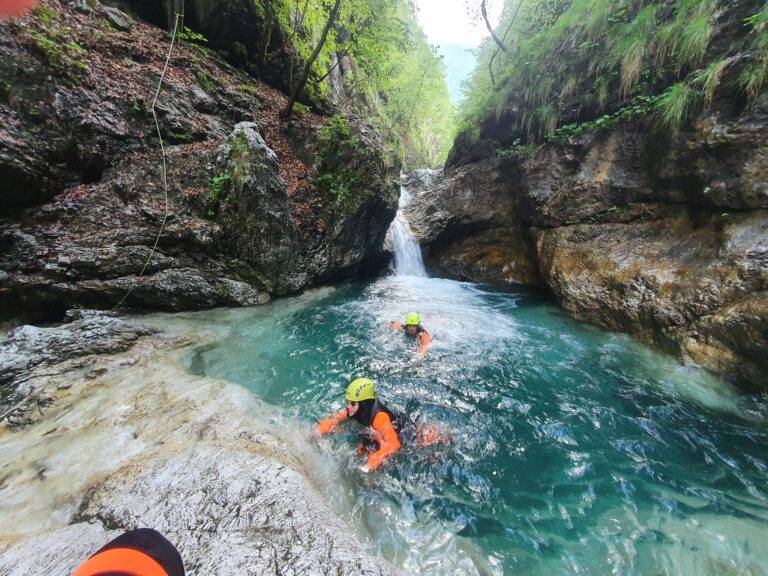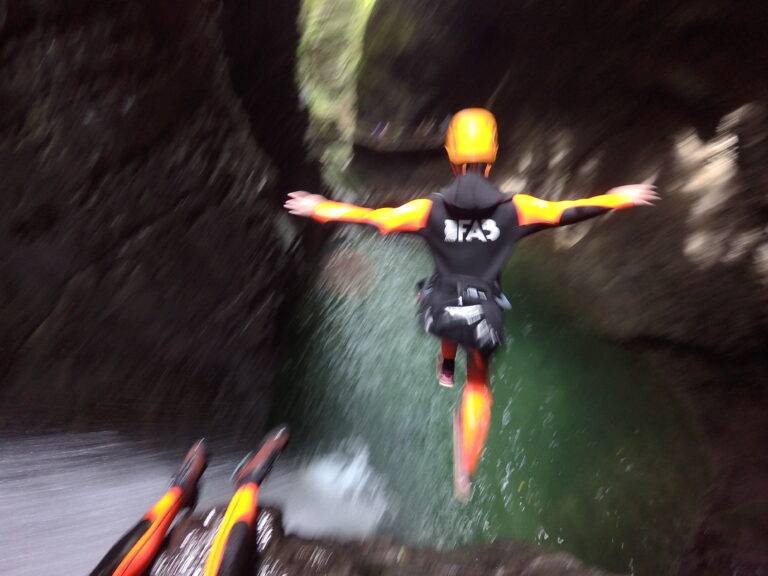 KOZJAK CANYON
FAB specialty are canyons: prepare for lots of jumps, crystal clear pools and rope techniques. Definitely one of the top three best canyons in Europe. Live your adventure today!
BODY RAFTING
Swim and jump in the emerald waters of the Soča River corridor. No harness or ropes needed. Play surrounded by a stunning landscape. A great experience for the entire family.
An important fact that you need to know about FAB is that we are proud to offer premium safety standards while guaranteeing quality fun. This can only be possible thanks to the hard work of our experience and highly qualified team of instructors.
We are seriously involved on a constant training and improvement of our professional skills.
Our goal is to allow you to interact with the unspoiled nature, managing your excitement and skill level, in order to provide a safe and unforgettable experience.
We want you to enjoy but also to learn about our ecosystems and their importance.
We believe that by offering a high quality service, we can help to the development of a healthy  Eco-tourist industry and most important, to the awareness and significant of nature protection.
This is Fabian
My name is Fabian Im an actual member
of the committee of Education of the
international Rafting Federation as an Instructor Trainer for river people.
Also, a Trainer Provider if Rescue 3 International. Kayaker and Canyoneer by passion. Now, I'm dedicated every European summer to work at FAB company and share my personal best places and activities near Kobarid to the visitors and friends. Together with my family, creating and bringing the best tailor-made excursions and course for those who are interested in becoming an independent canyoning freak. I have 20 YEARS of experience in this incredible amazing river lifestyle.
My name is Urban
I was born in Soča valley and since I remember I love this place. I like outdoor sports, specially those sports were adrenaline kicks you hard. First time I met with water sports was in 2018. One year later I started guiding canyoning, rafting and kayaking, so this summer it will be my fifth year as a guide. I love this job and I can't wait to start working. I like working with people from all over the world. In my free time I like to ride dirt bikes, I like to go kayaking and mountain biking. In the winter time i'm skiing.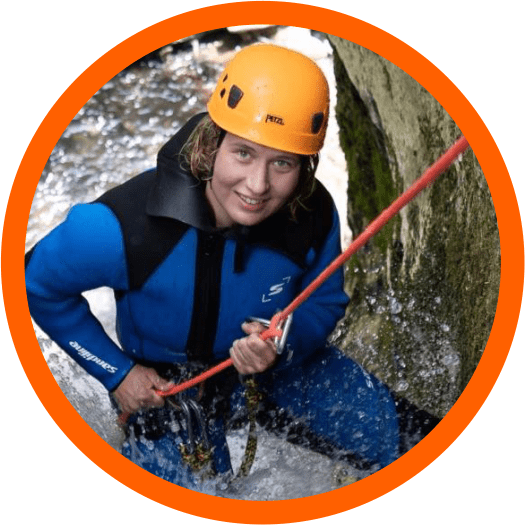 This is Annemarie
My name is Annemarie. I got introduced to canyoning as a tourist in May 2022 and immediately loved it. It matches perfectly with what I like most: nature, water and being active. I especially like to swim, in rivers or the ocean preferably. I'm originally from the Netherlands and I'm travelling fulltime since 2020. I found new homes in Portugal for the winters and here in Slovenia for the summers, so I'm actually not travelling that much anymore
We did aquatreking and it was beautiful!! 2 hours of pure relaxation and fun…you shouldn't leave Slovenia without having tried this activity. The guides Fabian, Ana Marie and Valentino 10 points!! very nice Thank you!!
This tour in Kojzak Canyon was really really amazing! Fabian is very Knowledgeable and makes you feel very safe getting out of your comfort zone! He even let us use his go pro and stop a million times for photos because the place is SO beautiful! At the end he adds at special touch of AquaTreking which allows you to do the last 25 minutes of hiking through the river and not on the trail like the other tours! so cool! Would definitely recommend!
Canyoning with Fabian was such a nice and special experience for me! I just can recommend it for everyone who´s in the region. It´s a lot of fun and its a little bit of going out of the own comfort zone! BIG THANKS FABIAN for having us and showing us the nice Canyon!